In celebration of World Emoji Day, The Emoji Foundation Adopted the 🙃 Emoji
The Unicode Consortium, a nonprofit that maintains text standards to support all the world's written languages across every device, today debuted a new look for unicode.org.
The Consortium invites emoji and language enthusiasts to celebrate World Emoji Day on July 17 and "Adopt a Character" to support its ongoing efforts. More than 136,000 characters are up for adoption — including this new Emoji 12.0 additions such as the sloth, the sea otter, the waffle and Saturn.
Those who choose to adopt will receive a custom digital badge they can display to publicly show their support, whether on their website or social media. Learn more and adopt your character here.
Apple offers a look at new emoji coming to iPhone this fall
To celebrate World Emoji Day, Apple is previewing a selection of new emoji coming this fall, revealing the newest designs that bring even more diversity to the keyboard, alongside fun and exciting additions to popular categories of food, animals, activities and smiley faces. We're most excited about the new mixed gender and skin tone couple Emoji, which is something we have called for at Emoji Foundation for a while now. ⬇️ You can see the new designs in Apple's press release.
The Most Popular New Emoji for 2019 from World Emoji Awards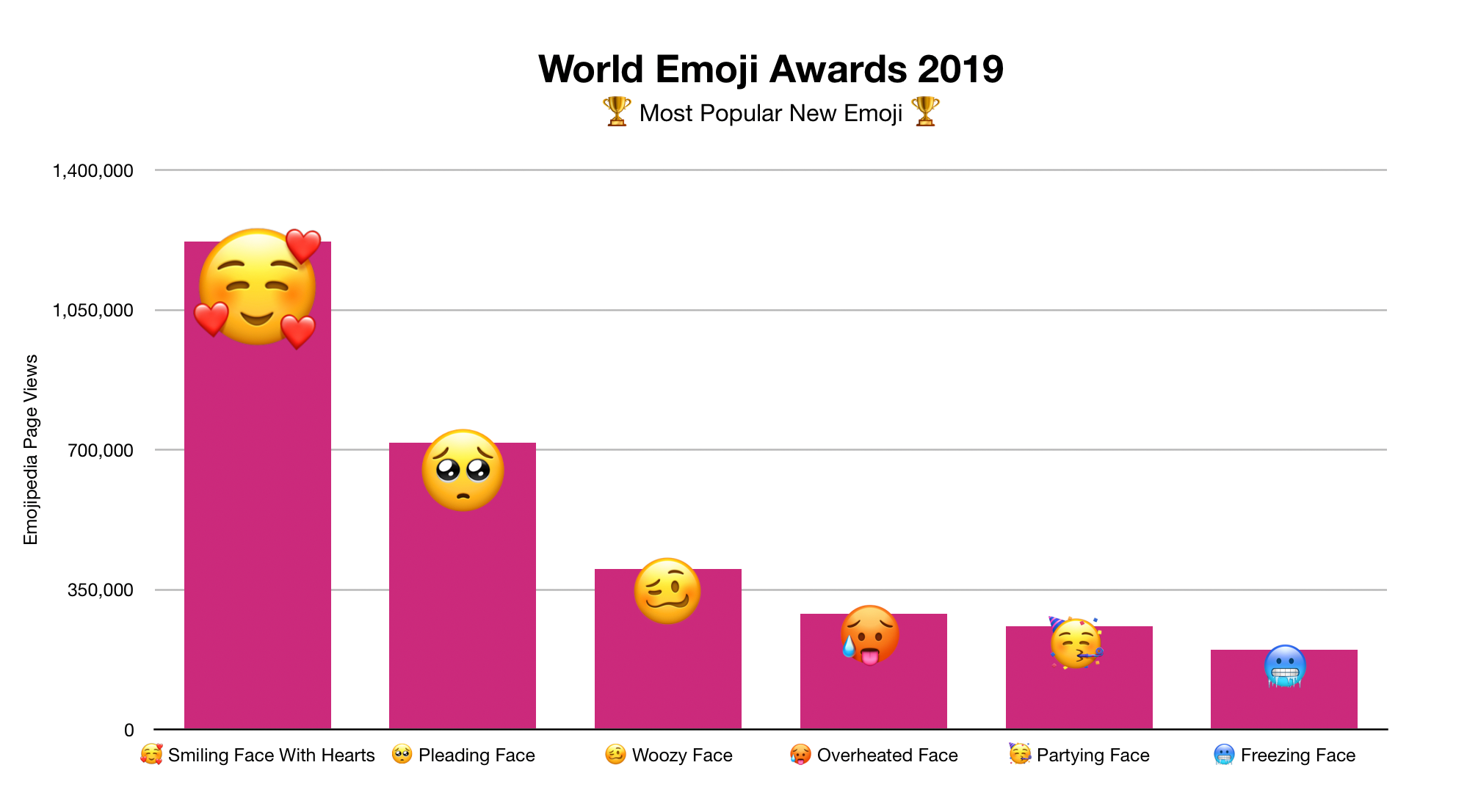 Announced live at the National Museum of Cinema in Turin, Italy, the winner of the 2019 award for Most Popular New Emoji went to 🥰 Smiling Face With Hearts.
via Emojipedia
UMLAUT SUES EMOJI FOR COPYRIGHT INFRINGEMENT
Lawyers working on the behalf of Germanic vowel alternation have filed a class action against 'cheap and disrespectful' ideograms. Too often complicated exchanges are being reduced down to a basic sequence of winking face, heavy black heart and Theresa May burning Windrush documentation.
A spokesman for Umlauts explained: 'My client has been squiggling over the International Phonetic Alphabet for over a thousand years. Quite frankly it's insulting to see some gurning chancer telling us how to feel – when James Corden will do that for free'.

newsbiscuit.com

Unicode considers new color variations for Emoji